Not only people have addresses and telephone numbers, blogs and facebook pages. Companies can now be directly represented in QRu without referring to a particular person or putting the company name into the family name field (or some other field were it does not belong).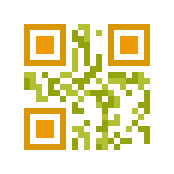 Want an example? Just scan the QR code on the right. It's our very own one and gives you access to the QRu contact information, including our twitter. And as you can see, QR codes don't have to be black and white.
If you want to make an entry for your company or organisation yourself just sign up with the main contact email address and tick the "Company / Organisation Contact" checkbox.